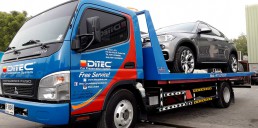 Car recovery in Abu Dhabi, Dubai and Sharjah – Your safety net on the road
Has your vehicle ever broken down in the middle of nowhere, with no car garage in sight? When that happens, you cannot help but have that feeling of despair and worry creep in on you. The situation can be especially problematic when you are stuck along a lengthy highway, with no one to help you.
With DITEC, you no longer have to worry. We have our professional car recovery service designed to assist motorists on the road deal with vehicular problems.
Reliable professional recovery service whether you are in Abu Dhabi, Sharjah, or Dubai
Every year, there is an innumerable amount of cases of vehicular breakdown across the UAE. Whether you live in Dubai or Sharjah, you are sure to have experienced or witnessed a vehicular problem while you are driving on the road. Mishaps like these are a problem not only for the driver, but for the other motorists as well, whose daily travel are affected by the impeded flow of traffic the situation has caused.
With this in mind, DITEC has created the car recovery service, which aims to assist motorists and drivers in the instance of a vehicle breakdown.
When you sign up for this service, you can expect a comprehensive recovery service for when your car breaks down on the road. Whether you have a flat tire, a mechanical problem, or a dead battery, we have professionals who can assist you right away.
All you have to do is contact us for roadside assistance, and we will send our field personnel to your location right away. If you need to get your car towed to a garage, we can deploy a tow truck and a professional towing crew to bring your car to our repair shop. If you have a blown tire, we can bring a spare to you and fit it on your car, so you can get on your way.
Enjoy peace of mind wherever you go
With our service package, you can expect the highest quality service delivered to you, wherever you are in UAE. We provide service to Abu Dhabi, Dubai, Sharjah, and all the other emirates, so you have complete coverage wherever you are.
 Eco-friendly Services. Premium services for new and used cars.